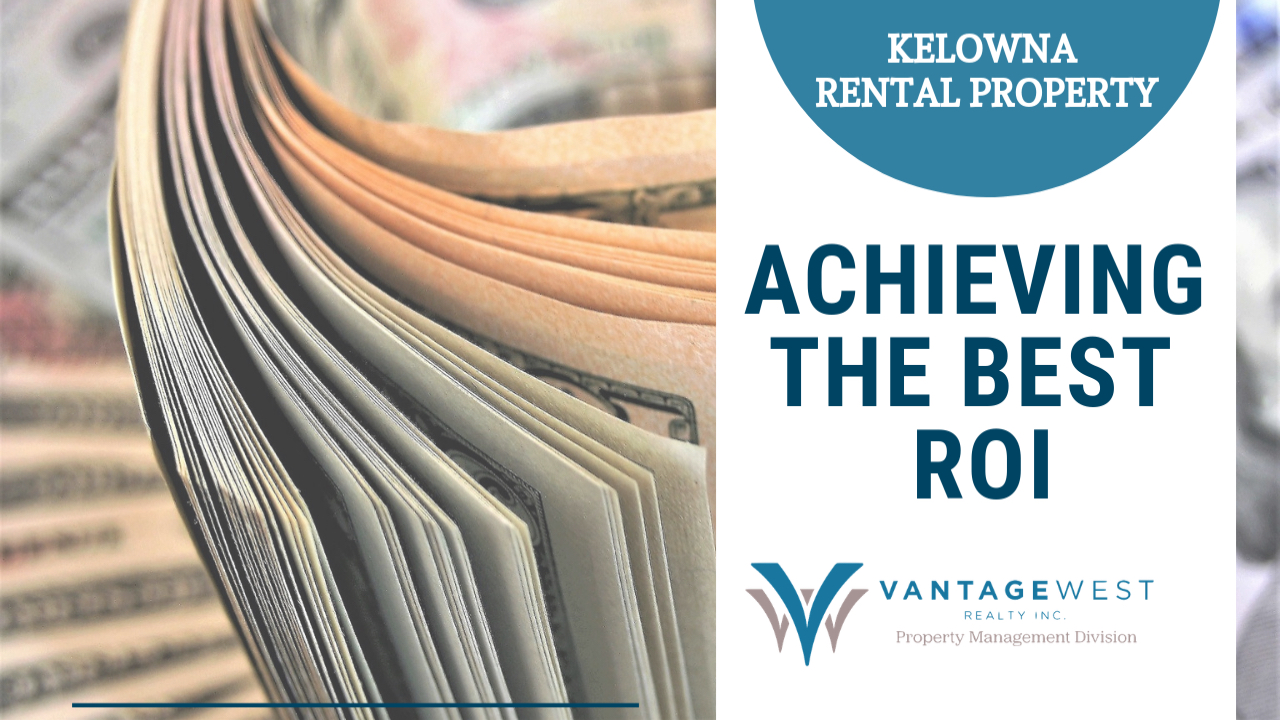 When you're trying to earn as much as possible on your Kelowna investment property, you need to take a few steps that will ensure you're providing a great home that high-quality tenants will want to rent. Increasing your return on investment (ROI) will require a lower vacancy rate, fewer maintenance costs, and a long-term tenant who pays rent on time and helps you take care of the home.
We have some ideas on how to help you achieve all those things.

Provide an Attractive Home
Earning as much rent as possible will help you increase your ROI and your short-term cash flow. Even some minor renovations can help you earn more and attract a better pool of tenants. Make sure your property is modern and appealing. Pay attention to the landscaping. Is there enough curb appeal to motivate prospective tenants to want to see the inside of the home? Is the lighting updated, and is the property clean?
Make a few upgrades. It won't cost you much to put a fresh coat of paint on all the walls, and it will look much better than touch-up work. Switch out faded and rusting faucets and hardware and replace them with brushed nickel or shiny brass. If your appliances are ready to be replaced, consider stainless steel and energy-efficient refrigerators and stoves. Pay special attention to the kitchen and the bathrooms, especially, bathtubs and dishwashers. You'll earn more rent and find better tenants if you provide an attractive, modern home that's ready to occupy. It will really set your property apart from the competition.
Provide a Positive Pet Policy
Many property owners hesitate before allowing pets in their property. This is understandable; no one wants to put their investment at risk for pet damage. However, allowing pets will earn you more money in a couple of different ways. First, you'll have a lower vacancy time. More than half of all tenants have at least one pet. So, if you have a no-pet policy, you're going to spend more time finding a qualified tenant willing to rent your home.
You can also earn more money in rent when you allow pets. Charging a pet rent every month will give you a higher and more sustainable income than charging a refundable pet deposit or a one-time pet fee. If you charge your tenants an extra $25 or $30 every month for each pet they move in with, you can earn extra money. It's very rare that pet damage exceeds the amount of your security deposit. Pet owners also tend to make good tenants who stay in place longer. Don't be afraid to allow pets.
Keep an Eye on ROI
Working with a professional property manager can also help you earn more ROI. Our quarterly and annual accounting statements and financial reports can show you how your property is performing, and where you are spending more money than you should. You'll be able to see how much you're earning, and what you can project to earn over the next year, five years, even 10 years. If you can keep a professional eye on these things and be flexible enough to make changes as necessary, you'll earn more on your investment property.
These are just a few ways you can spend less and earn more. For additional tips, please don't hesitate to contact us at Vantage West Property Management.