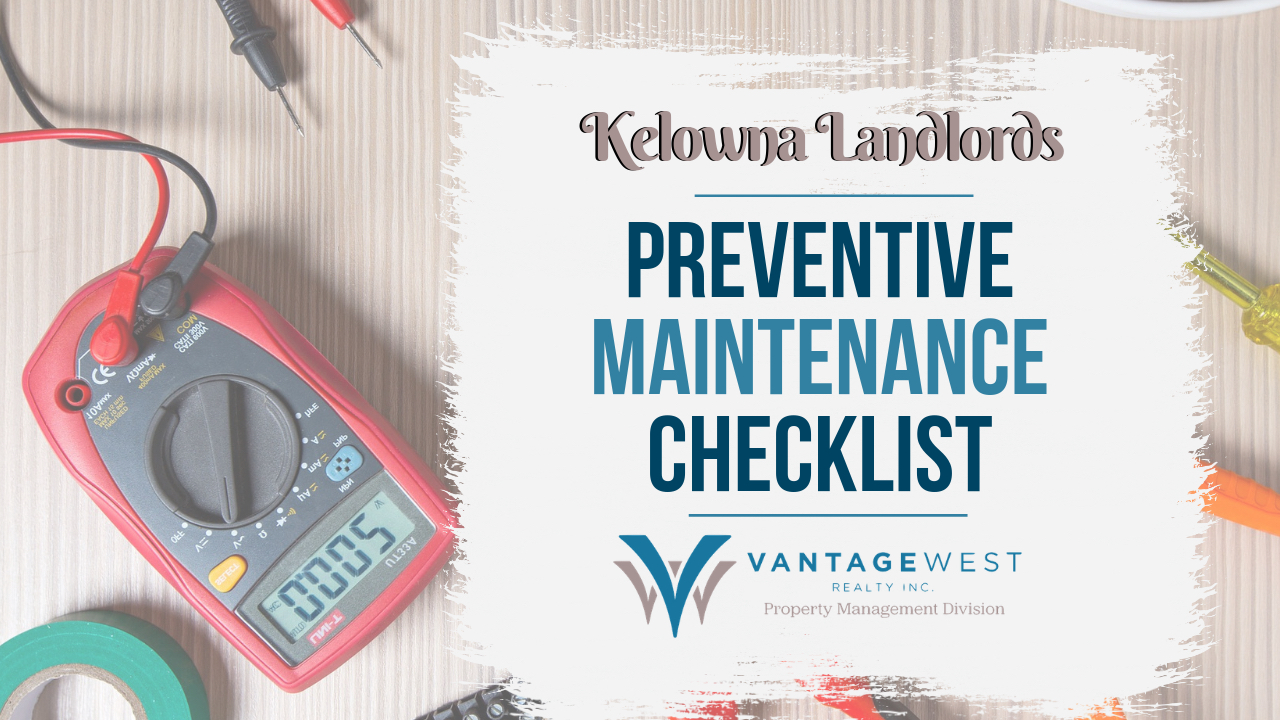 Preventative maintenance is an important part of managing your Kelowna home. It protects the condition of your property and helps you avoid costly maintenance issues in the future. It also lets your tenants know that you care about their comfort and safety, and you care about keeping your property well-maintained.
Today, we're discussing some of the things that we pay special attention to when we're putting together a plan for preventative maintenance.
Blow Out Your Sprinklers
You'll need to winterize your sprinkler system to prevent freezing and damage. Blow out your sprinklers by clearing all the water from your sprinkler system with an air compressor and an air hose. Or, have your landscaping or gardening professional take care of it for you. If you don't take this important preventative maintenance step, you could compromise your irrigation system and be left with sprinklers that don't work when it's time to use them again. We have very cold winters. You need to be prepared for them.
Water can cause a substantial amount of maintenance headaches and costs at your home. When you're done with the sprinklers, perform an inspection around the perimeter of your property. Look for drainage issues and potential problems. Clean your gutters so you're sure there isn't a lot of debris clogging them and allowing water to get into the house.
Water Damage and Leaks Inside the Home
On the interior of your property, look for signs of water damage. This might show up as stains on the ceiling or the walls. Check for leaks under every faucet and sink. If there's moisture on any floor or surface, get to the reason why and have it repaired. You also want to check the shower and the tub for caulking. Inspect the grout between tiles and make sure there isn't anything chipped or broken that can allow water to get into the subfloor. Flush your water heater, and inspect the entire unit for signs of rust or damage. Take a look at the age of that water heater. It's better to replace it early than to have it begin leaking in a few months.
Safety and Habitability Issues
Part of preventative maintenance is keeping your home safe and habitable. Test all smoke and carbon monoxide detectors regularly. Look for broken handrails, doors and windows that aren't locking properly, and make sure you have enough exterior lighting.
Inspect and Service HVAC Systems
One of the most expensive systems in your property is the heating and cooling system. We're always surprised when owners don't want to invest a couple hundred dollars to have the HVAC system inspected and serviced once or twice a year. Having a professional technician take a look at it will save you thousands in repairs and extend the life of your heating and air conditioning source. In addition to having it inspected annually, make sure you're changing the filters in your forced air systems. Talk to your tenant about the frequency in which this needs to occur.
These are just a few of the things you need to pay attention to when you're maintaining your home. Preventative maintenance is important to us as investors and as professional property managers. If you'd like to hear more, please contact us at Vantage West Property Management.