When you're thinking about buying a home, but you're feeling nervous about the prices and the lending requirements in the current Kelowna real estate market, there's a fantastic option that you might not have considered yet. 
You can do a Lease to Purchase Agreement, which is commonly known as a Rent-to-Own home.
With this type of program, you can begin leasing the home that you eventually plan to buy. You're dealing directly with the seller, or the owner of the property, and you're both bound to a contract that protects the interests of both parties. 
It's safe. It's convenient. It's accessible homeownership.
At Vantage West Property Management, we love helping people achieve their dream of owning property. We're here to help facilitate a rent-to-own arrangement for you, whether you're a tenant or an investor. 
Let's talk about how a program like this works, and why you can benefit from it. 
Rent-to-Own Programs in Kelowna Serve Several Types of Buyers 
Who can most benefit from a rent-to-own scenario? 
You can, if you fall into one of these common categories:
You're a first time home buyer and you want to navigate a complex and competitive sales market with ease. Sometimes, entering the real estate market is intimidating, especially if you're worried about your ability to get a traditional home loan. 

You're a buyer who needs some help building credit. Leasing to own a home can buy you some time while you get your financial house in order. You don't have to continue renting while you save up for a down payment and improve your credit score.

You're self-employed and don't have the financials that traditional banks look for to approve a mortgage. 

You're new to Canada and you need a couple of years to get your citizenship in order. New immigrants can immediately begin the process of homeownership while they wait for the credentials they need to get a mortgage.
This is also an excellent solution for real estate investors who want to leverage their buying power and increase both equity and cash flow in an acquisition. 
Why Lease to Purchase Works for Tenants (Buyers)
This type of program is the quickest, most efficient, and least expensive way for a current tenant to buy a home in the Kelowna real estate market. Maybe you want to buy the home you're currently renting. Or, perhaps you'd like to look for something different that you'll hold onto for many years. 
As the buyer, you benefit by spending less money at the time of purchase. You get more buying power and you get to try the home out before you actually close the deal and purchase it outright. Your equity will grow faster and you'll have time to prepare financially for a mortgage and all the expenses that come with homeownership. 
Why Lease to Purchase works for Owners (Sellers)
Sellers have a lot to gain from rent-to-own programs, too. 
It's the easiest way to transfer ownership of your property over time to people that you actually get to know because they're your tenants. Your sales price will be at the high end of the range, and you'll earn some positive cash flow. There's a large pool of buyers and a lot less risk than selling the home and walking away from it. You'll have fewer maintenance troubles, less work as a landlord, and a deposit that you get to hold in case the deal falls through.
How to Get Started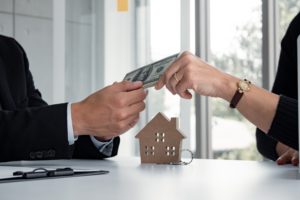 To qualify for a rent-to-own program, you'll need a six percent down payment, or a minimum $15,000 on a purchase price of $250,000.  Expect to show proof of the entire down payment when you begin the application process. This money will be used towards your agreed purchase price.
We'd love to talk more about your unique situation and how we can get you into a home that will ultimately be yours. Please contact us at Vantage West Property Management.